How Madam Baker Became a local Sensation Thanks to Word-of-Mouth Marketing and Social Media.
Role
Social Media Content Marketing strategy, Marketing Analysis & Research, Influencer Marketing Strategy
Madam Baker is small business created by friends who strive to make delicious cupcakes using unique flavour combinations. Inspired by a variety of Asian/Middle Eastern desserts they decided to put their own twist on the traditional cupcake. From these humble beginnings baking for friends and family, they have grown into a much-loved local brand with a cult following.
Before launching their business, the founders of Madam Baker did extensive research on flavour combinations and cupcake baking techniques.
Weekly Average Customer Order
They tested and tasted countless recipes before settling on their signature flavours. They also took the time to learn about the science of baking, so they could perfect their cupcakes and ensure that each one was consistently delicious. However, they had a problem figuring out their marketing strategy after launching and had no idea how effectively get their product in front of their target market.
After working with me, Madam Baker was able to develop a targeted marketing strategy that helped them reach their target market more effectively.
Weekly Average Customer Order
As a result, they saw a significant increase in sales by 270% and brand awareness quickly became a local sensation. Their unique flavours and beautiful cupcakes were in high demand, and they soon had a loyal following of customers. Thanks to word-of-mouth marketing and social media, they began to attract attention from further afield – and their business took off.
The key to Madam Baker's success was its ability to identify and focus on its target market. By understanding who their ideal customer was, we were able to create a marketing strategy that resonated with them.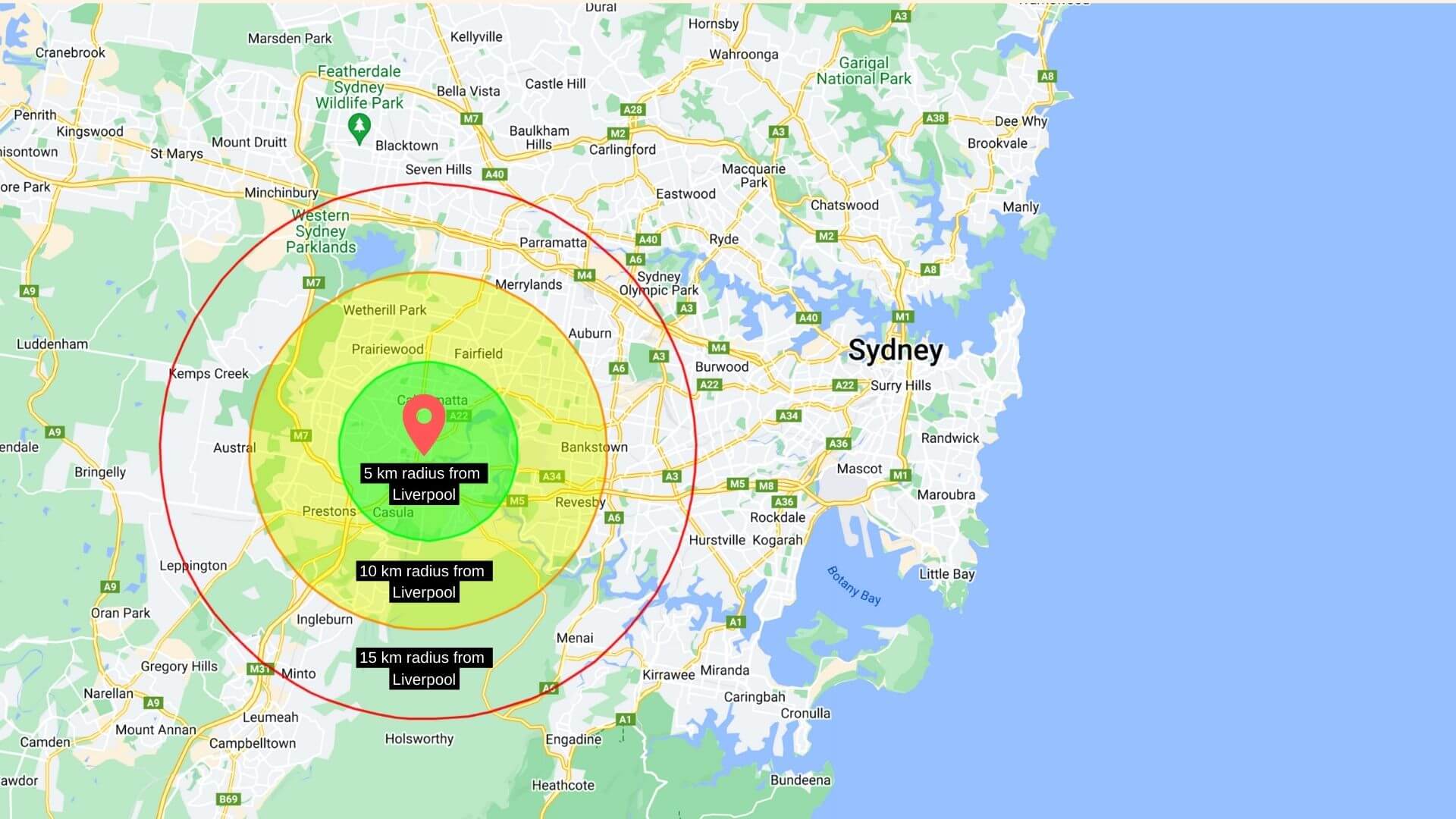 Since Madam Baker operates their business through Instagram alone, they use a very targeted form of marketing which involves using influencers who have a significant following in the Liverpool and surrounding suburb area.
The 5km radius from Liverpool was their main focus as this is where most of their customers come from and would offer free delieveries to those within this range.
Free deliveries was also offered to those within The 10km radius and was their secondary focus.
The 15km radius was their tertiary focus as they knew that there were a lot of foodies in Sydney who would be interested in trying their products.
The 20km radius was their least focused area but they still offered pickup services from their kitchen for those who were interested.
The Strategy
Through our research, we found that Madam Baker's target market was mainly women aged 25-35 who lived in Sydney' but also food influencers with a large social media following (Men Included). We also identified that their ideal customers were outgoing foodies who loved trying new things, so we focused on creating experiences and products that would appeal to this group.
Instagram was essentially their only marketing channel, so we knew we had to focus on creating content that would be shareable and engaging. Since they take orders directly through DMs, we also included a call-to-action in every post so that their followers would know how to order their products. I instructed the team to engage in conversations with their followers and other food influencers in the industry to better understand what their target market was looking for. We also kept an eye on competitors' posts and analysed what was performing well so that we could replicate and improve upon those strategies. This meant engaging with locals nearby and leaving genuine comments on their photos to start building relationships.
After researching influencers and accounts they shout reach out to, we managed to barter deals with them to feature Madam Baker on their stories and Instagram posts in exchange for free cupcakes. We managed to bypass expensive influencer rates by leveraging our existing network. Macro influencers would introduce us to larger accounts who would collaborate at a discounted rate.
In exchange for free cupcakes, we had influencers with a following of over 10-20k+ feature Madam Baker on their stories and posts. Per collaboration, we lost a box of premium cupcakes that cost us $15 to make but are worth $50-$70 when ordered. This led to an influx of orders, helped increase brand awareness, and grew their social media by an average of 5-10% for each collaboration. This effectively drove traffic to their page and resulted in a significant increase in sales by about 20-30% weekly and an incredible ROI. Eventually, their sales increased by about 270%, and spike around certain holidays such as Valentine's Day, with some weeks seeing a 400% ROI.
I instructed the team not to be too pushy when communicating with the people they wanted to collaborate with. I provided the following script:
Message 1( Casual friendly tone of voice)

Hi (insert name),

My name is ____ and I'm reaching out on behalf of Madam Baker. We're a pair of locals who are passionate about baking sweet tooth-satisfying treats. Thought I'd reach out and say hi!

P.s I noticed that you've got great taste in food, (Mention a recent post of theirs and ask them more about it or to offer food recommendations)

Message 2

(Reply to their recommendation and compliment them on it)

(Ask some follow-up questions about them and their interests to get to know them better)

Message 3(After building rapport)

Hey (First name)! I've been meaning to ask, would you be interested in trying some of our cupcakes? We'd be happy to send you a box for free! We'd love to hear your honest opinion on them. Let me know! 🙂
After sending this script, I told them to wait a few days before following up. If they didn't hear back after a week, they should move on to the next potential collaboration. If successful, I instructed them to wait until they delivered the box of cupcakes to ask for a social media shout-out. People are less likely to say no in person when they've received the product, and it's better to build up a relationship before asking for anything in return.
This soft-sell approach led many people to say yes to collaborations, which helped Madam Baker's page grow organically and resulted in a lot of positive feedback. It helped them to build long-term relationships with their customers and other businesses. It also allowed them to tap into new markets and grow their customer.
To support their strategy, I provided design services, such as creating promotional graphics and special holiday-themed illustrations that we used on stickers to complement their packaging. This ensured they focused on baking whilst I focused on their plan of attack and design, which helped to take some pressure off them.
In short, by connecting with other businesses and locals, Madam Baker was able to expand their Instagram following to over 2000 people organically. This led to increased brand awareness and sales and drove substantial amounts of traffic to their page, resulting in an excellent return on investment.
Final Thoughts
It's always important to think outside the box when it comes to marketing, especially when you're on a tight budget. There are many creative ways to get your name out there without breaking the bank. Although I would recommend diversifying their marketing channels, they chose to focus on Instagram as it was their most successful platform.
One problem with organic marketing is that it can be very time-consuming and requires a lot of dedication. It can be difficult to maintain a consistent presence on social media and to keep coming up with new content ideas. Another downside is that you don't have as much control over who sees your content.
With paid ads, you can target a specific audience and ensure that your content is seen by people most likely to be interested in it. Organic marketing can also be quite unpredictable. It's hard to predict when your content will go viral or when you'll have a breakthrough that helps you to reach a wider audience.

Some collaborations didn't produce the results that Madam Baker wanted, and they had to move on quickly to the next potential partner. This can be frustrating and discouraging, especially if you've invested a lot of time and effort into a particular collaboration.

Some influencers remove content after a period of time, which can negatively impact your brand if you rely on them for long-term exposure.

We learned the hard way after a few big-name accounts archived their feed resulting in our client's content being removed without warning.
Despite these challenges, organic marketing can be very effective only when a brand is patient and persistent. A focus on quality over quantity and building long-term relationships with customers and other businesses helped and paid off in the end. The main takeaway from this case study is that Madam Baker's focus on quality and customer service led to them receiving positive reviews and word-of-mouth referrals, which helped them to grow their business organically.